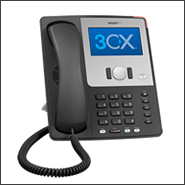 3CX is an open-platform, software VoIP phone system that works with popular IP Phones and SIP trunks whether on-premise or in the cloud. Offering a complete Unified Communications solution with advanced features, 3CX is more than just your average business telephone system. Simple, affordable and flexible, 3CX eliminates the cost and management headaches of outdated, traditional phone systems or the limitations of shared cloud PBXs. It supports popular SIP phones, VoIP providers and traditional PSTN lines. 3CX Phone System's web-based management console makes it easy to configure, eliminating the need for expensive maintenance.
3CX's Unified Communications solution sets itself apart with its easy installation and management. Setup takes minutes; the phone system will run on-premise on an existing Windows or Linux machine and can be virtualized on Hyper-V, VMware or KVM.You can also host your PBX system in the cloud with Google Cloud, Amazon Lightsail, Microsoft Azure and many more. With its web-based setup wizard, provisioning IP Phones, Gateways, SIP Trunks and smartphone apps takes minutes and server-side CRM integration makes using 3CX with your preferred applications easy.
3CX includes VoIP apps for Android and iOS which allow you to take your office extension with you anywhere. With a modern and intuitive user-in-terface, 3CX's integrated softphone applications offer a full range of Unified Communications features including presence, chat, conferencing and more. Answer calls to your office phone extension via your mobile device and transfer to colleagues without asking customers to call another number. Slash your company's mobile phone costs, increase productivity and make sure you never miss a call again! With powerful softphones for Mac and Windows, 3CX allows you to easily manage your phone calls in the office, at home or on the road using your desktop PC or laptop.
Video conferencing has become an essential part of daily business communications. Whether its to catch up with a team member who is travelling or to give a sales presentation, no one can argue that its a means of communicating that has become a part of the norm. 3CX's integrated video conferencing is easy to use and enables businesses to save time and money by hosting virtual meetings, whilst enjoying the benefits of face-to-face communication.Video conferences can be easily launched through the 3CX web client with a few mouse-clicks and can be used for a wide variety of everyday communication needs to boost productivity and efficiency.
3CX Phone System is available in several editions based on the number of simultaneous calls (internal & external) your company makes. Upgrades are activated instantly with a license key – there's no need to reinstall 3CX Phone System. A detailed feature comparison table can be found here.